At Gauthier Law Office, we deal mainly with residential transactions. However, we offer services for commercial transactions, whether for an individual or a business.

Rose-Lyne is committed to making your real estate transaction a smooth and efficient one. Whether you are purchasing a home for the first time or selling your current residence, she and her staff will take care of you and address your inquiries in a timely manner. If you simply wish to refinance your home to take advantage of a better interest rate or consolidate debts, Rose-Lyne can carry out all the duties related to refinancing within a few days. Other services offered at no extra cost include reviewing an Agreement of Purchase and Sale, arranging the transfer of your property to your spouse in the event of a breakdown of your relationship, or helping you draft your own Offer to Purchase.

FEES
Our fees are very competitive and are based on your particular real estate transaction.

- "ALL INCLUSIVE" and WE WILL MATCH OR BEAT ANY WRITTEN QUOTE -

Purchasing a home
Fees vary depending on whether you are purchasing an existing home or a new one. Disbursements and services include a full title search, registration costs (for one deed and one mortgage) and title insurance (for existing homes). At Gauthier Law Office, we pride ourselves in completing a full title search (as opposed to an online search), as we have to guarantee a valid title to you, the purchaser, and the lender that will finance your home. The cost of the title search is the only disbursement that is unknown when we start working on your transaction. Further reassurances are given with a title insurance policy. You will find more information on title insurance below.

Existing home – $1750 which includes title insurance. Land transfer tax is extra.

New home – Same as for existing home. There may be an additional registration fee of $74.72 for "covenants'', which are special conditions or limits related to your property.

Condominium unit – The above fees apply, depending on whether you are purchasing a new or existing unit. In the case of an existing condominium unit, there is an additional disbursement of $100 for the status certificate. This needs to be reviewed in order to guarantee that the condominium corporation is in good standing and not operating on a deficit.
Selling a home
A flat fee of $850 that includes all disbursements. Any discharge costs not covered on the payout of your current mortgage are extra.
Refinancing a home
A flat fee of $850 that includes all disbursements and the discharge of up to one mortgage. Title insurance at the rate of $108.00 is included.

Combined home purchase and sale
A flat fee of $2,450, if both a home purchase and sale is performed through our office.

SOME DEFINITIONS


Title search
A search of title is the first step in the conveyancing process, where we confirmthat all documents registered on a specific property are correct under the Land Titles Act, the Planning Act and the Surveys Act (which governs access). During this process, we also investigate the quality of the vendor's title.

Title insurance
Title insurance is an alternative to the lawyer's opinion that protects you, the purchaser, in the event of someone else claiming an interest in your property. It also protects you from certain types of fraud, including those that can occur after you purchase your home. The title insurance policy will compensate you for any defects there may be on title in the event of inaccuracies provided by the municipality, or for certain title defects that can occur long after your deed is registered.
Title insurance also eliminates the need for a survey, a certificate of location or RPR (a real property report prepared by surveyors).
The cost of the policy is a one-time premium and the policy protects you for as long as you own the property.
Ms. Gauthier mainly uses the services of Stewart Title Guaranty Inc. for title

insurance. Information pamphlets are available at her office.

Cost for title insurance vary, depending on the purchase price of your home.

Land transfer tax
The land transfer tax is a special tax that all home buyers must pay to the Government of Ontario when they purchase a home. If you are a first-time home buyer, the government of Ontario provides for a reduction of your land transfer tax, up to a maximum of $4,000.
For information on how to calculate the amount of land transfer tax you must pay or to find out what amount you would need to pay, please contact our office by telephone or email. We will be happy to provide you with this information.

ARE YOU PURCHASING A HOME?
The following are tips and steps to follow when you decide to buy a home.



1. Confirm financing.
You must obtain confirmation of financing by way of a mortgage or line of credit from your financial institution or through your mortgage broker.
2. Enter into an Agreement of Purchase and Sale with the seller.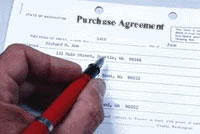 When you find a home you wish to purchase, your real estate agent will help you draft the Offer to Purchase and will contact the seller. An offer can be firm or contain several conditions. The most common conditions relate to financing and home inspection.

3. Provide a copy of Agreement of Purchase and Sale to your lawyer.
You must obtain the services of a lawyer when you wish to purchase a home. If you have already entered into an Agreement of Purchase and Sale, you or your real estate agent must provide a copy to your lawyer as soon as conveniently possible. You will also need to provide all of your basic personal information such as the correct spelling of your name, current address, date of birth and contact information.
4. Provide your financial institution or mortgage broker with the name of the lawyer you have chosen to represent you.
Once you have obtained mortgage financing, your financial institution or mortgage broker will provide mortgage instructions to your lawyer so that the documents to be registered on your property can be prepared.
5. Arrange for home insurance, including fire insurance, on your new property.
If you will have a mortgage on your property, you will also need to obtain home insurance, including fire insurance. You will have to provide confirmation of coverage to your lawyer, who will then confirm to your financial institution that your property is covered against fire.
6. Arrange for installation of telephone, cable and internet services.
Once your purchase is completed and the property is registered in your name, your lawyer will then advise service utility offices and municipal tax offices of the change of ownership for your property.
You will need to make arrangements only for your telephone, cable and internet services.

7. Plan your move and send address changes.

Make all your arrangements for your move. You must also inform all interested parties of your new address and arrange mail forwarding with a Canada Post office.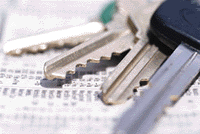 HOW SOON CAN I OBTAIN MY KEYS AND MOVE IN?
If you have a mortgage on your property, the transaction cannot close until your lawyer has all funds needed for the purchase. Your lawyer then arranges to provide the monies to the seller's lawyer. Once this is done, your lawyer can then register your deed and mortgage, and provide you with the keys. Keys are most often handed over in the early afternoon. However, some banks take more time in providing the advance funds to your lawyer; this can affect when you receive your keys. Therefore, as a precaution, it is important (if you have a mortgage) to take into account the fact that you may not be able to enter your new home before sometime in the afternoon.
At Gauthier Law Office, we endeavour to close your deal as early as possible in the day. This means that the faster we can obtain the funds needed to close the deal, the faster we can register your deed and mortgage and give you the keys to your new home.

For further information on any of these matters, please contact us directly by telephone or email.
For return clients or those real estate clients wishing to have a Wills and Powers of Attorney, Ms. Gauthier offers a reduction of 25% on fees.